Modern furniture - timeless, stylish, multifunctional - New Work - the trend for 2022 with the Xbrick
Where is the trend for modern furniture going in 2022? As lifestyles adapt, so does a new demand for furniture to match! With the Xbrick and its accessories, you are perfectly prepared for almost any occasion!  
But "modern furniture" & "new work" – what does that actually mean? We explain it to you!  
Modern Furniture In today's world, this means a minimalist and sleek style, usually in a colour scheme with colourful accents. But for 2022 in particular, this modern furniture is complemented by another feature: flexibility!
Our working world is getting faster and faster, processes have to be optimised and ideally there is one tool for several tasks. And we deliver this multifunctional furniture to you- the Xbrick!
New Work – into a new world of work!
New Work is the development of the new world of work. Nowadays, this is mostly characterised by flexible working hours and the place of fulfilment of the work can also vary at will – the most important thing remains that the work is fulfilled.
More and more companies are giving their employees this freedom and are enjoying greater effectiveness and employee satisfaction. And of course, this New Work style also requires a new, flexible working environment! Create it flexibly, quickly, easily and stylishly at any location!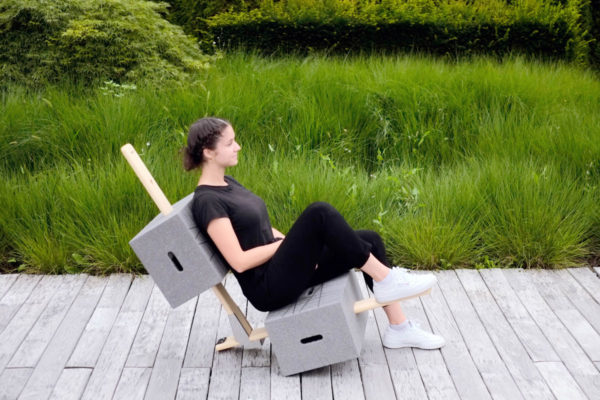 Create a comfortable seat with our Xbrick and the X-chairbase – quickly and easily put together for a stable and mobile seat indoors or outdoors!
Modern furniture for 2022 – with the multifunctional furniture Xbrick
In 2022, we want to equip you with our stylish Xbrick – whether for home as a modern piece of furniture, for your training in the style of a plyo box, for university as a mobile seat with writing table or for short-term seminars and working groups – the Xbrick is the answer to your New Work furniture 2022. 
Discover our practical sets and use the Xbrick as you wish! We supply you with our multi-functional tool – you supply the ideas for its use! Unlimited application possibilities and practical tools to optimise the Xbrick for further functions – the perfect New Work furniture for your work and everyday life!
Modern New Work Arbeitsplatz
We show you how you can work comfortably, flexibly and easily from anywhere – the Xbrick is your New Work furniture for 2022 and can be perfectly integrated into your everyday working life!
Design your seminar and group room in no time at all – simple and flexible room design adapted to the size of the group, indoors or outdoors, and lots of creative scope in the design!
Free of harmful substances and perfect for letting children be creative. Whether for seating stands, group games or for building Xbrick. castles – there are no limits to the creative power of children's minds here!
Multifunctional furniture as a plyo box for sports & fitness
Easy to clean, hygienic, stable and flexible to use – The Xbrick is perfect for cross-fit, gyms and outdoor training groups!
Xbrick – the multi-modular furniture for your modern life!
We make sure you never have to worry about seating and mobile workstations again. With the Xbrick, you combine a multitude of tasks in a single tool. If you have any questions about the use of the Xbrick, the functionality of the accessories or any other concerns, please contact us here: Contact us!
If you would like to use the Xbrick for larger concerns, such as setting up a seminar room, equipping classrooms, meeting rooms for mobile working groups, as a sports element in your gym or for outdoor events, please contact us and we will be happy to advise and assist you in planning! We will also support you in making the best use of your space and transforming it into a New Work landscape! We look forward to hearing from you!