Hello 'designboom' fans, we have a special offer for you!
Get 10€ discount with the code: designboom(valid until 10/07/23).
The multifunctional furniture Xbrick®


for museum, seminar & meeting room
Our flexible multi-functional furniture

Xbrick®
- Perfect as museum furniture & furniture for seminars -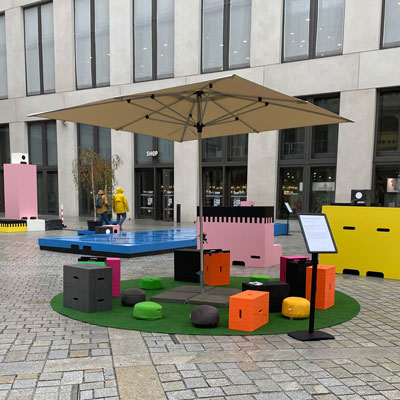 Mobile seat for workshops and museum education
The lightweight seminar & museum furniture is perfect for multifunctional spaces – for modular seating with the  Xbrick®
The modular workshop furniture for indoors & outdoors!
Uncomplicated furnishing element for creative museum projects & meeting rooms – Can be used indoors & outdoors with numerous applications
As a single seat, seat grandstand or pedestal - maximum flexibility!
A multi-functional piece of furniture for all areas: design grandstands, flexible meeting rooms and much more – quick, easy & modern with the Xbrick®
Loadable up to 200 kg
easy to clean & hygienic
easy to transport
Usable for In- & Outdoor
non-slip and without hard edges
sustainable & recyclable
Made in Germany
Seating stand – 
Xbrick

®

 – Set for flexible seating

The Xbrick® – Set Seating Stand provides you with the practical multifunctional furniture Xbrick® in all colours & numerous X-conn connectors. In this way, you can create flexible seating stands for the entrance areas of trade fairs and museums or numerous seating options for seminar and conference rooms. Create a communication-friendly atmosphere at any location – with Xbrick® multifunctional furniture!
Included in the set:
23x Xbrick black
1x Xbrick neon green
1x Xbrick orange
1x Xbrick magenta
1x Xbrick yellow
1x Xbrick blue
1x Xbrick ocean
1x Xbrick light grey
38x X-conn (connectors made of beech wood)
In our download area you will find all information about our products:: Produktinformationen Xbrick
Flexible seating elements with table – 
Xbrick
®
Modular furniture set with table and numerous sitting/standing elements – especially suitable for cooperative learning, events, meetings and small working groups. With the Xbrick® multifunctional furniture, you can quickly, easily and flexibly create a creative and sustainable work surface, a place for discussions and opportunities for a short break in the museum or at your event.
Areas of application:
School furniture, museum furniture, furniture for seminars & meeting rooms.
Seminar furniture for adult education
Office furniture for meeting rooms
Creative and flexible working groups
As an event stand for your event
The Xbrick®– Set contains:
7 x Xbrick black
2 x Xbrick neon green
1 x Xbrick light grey
1 x X-table (table top made of spruce)
2 x X-belt (belt with buckle, 5 m, black)
4 x X-conn (connectors made of beech wood)
In our download area you will find all information about our products:: Produktinformationen Xbrick
Xbrick® – Test the modular multifunctional furniture for your indoor & outdoor event now
SPONTANEOUS & FLEXIBLE
 – Xbrick®
Spontaneous group work, planning a meeting room or many visitors to the museum? The Xbrick® is the solution!
Build standing tables, grandstands, seating circles, benches, use our mobile whiteboard and much more! This way you can create all possibilities for your projects at any location!
WORKSHOP-FURNITURE
Lightweight yet extremely resilient – the multifunctional furniture for your workshop.
With the Xbrick® you get an extremely variable and versatile tool for your furnishings, which you can use at almost any event.
Whether indoors or outdoors – work/learn/play with Xbrick wherever and whenever you want!
The multifunctional furniture Xbrick® for Museum, Seminar & Events
- why is the

Xbrick

®

perfectly suited?
You get a modular piece of furniture that is light, heavy duty, sustainable & hygienic - ideal for museum education and workshops of all kinds, because the seating cube can be used intuitively by a wide range of people of all ages. And after use, it's easy to wipe down and stack away.

Sophisticated and timelessly stylish – with the Xbrick we have created a multifunctional piece of furniture that is useful in many areas of application and looks good at the same time! The Focus Open awarded the Xbrick 2018 gold for this!
Whether for seating circles, creative workshops, as seating furniture for spontaneous meetings or as a standing table element in seminars. The multifunctional furniture has endless possibilities and is just waiting for you to discover more areas of use!
The Xbrick weighs only 1.4 kg and is therefore extremely light for its large volume. You can therefore transport it easily and use it wherever you need a seat.
Weatherproof and incredibly resilient – the Xbrick can support up to 200 kg and can be used anywhere without hesitation – indoors and outdoors. Because it is easy to wipe down and clean!
With our accessories you can combine several Xbrick and create tables, benches, mobile whiteboards or your own new ideas and creative applications – discover your own system and use the Xbrick according to your ideas.
Xbrick is GS-tested, free of harmful substances according to toy standard EN 71-3 and is also approved for use with food. Xbrick has been awarded the quality seal "particularly moving".
We produce the Xbrick in the factories of Diakonie Stetten e.V. and thus ensure short transport routes. It is important to us to produce ecologically and sustainably!
We are committed to a consistent circular economy and creating transparent supply chains – as a partner of the C2C Lab, these goals are particularly close to our hearts!
The Xbrick®: Uncomplicated furniture for museums, seminars and workshops - In & Outdoor! All features at a glance!
Your museum furniture & furniture for seminars & courses - Xbrick® Multifunctional Furniture
MUSEUM FURNITURE by Xbrick®
Sit ergonomically – because in motion you stay concentrated longer and have more fun! Multisensory experiences during use make the workshop even more impressive!